Why India series can catapult Labuschagne into Australia's world cup squad
Two devilish bouncers, in the space of four years, would turn the career of Marnus Labuschagne around. Remarkably, he faced neither. But the first, a Jofra Archer thunderbolt that felled Steve Smith on the fifth day at Lord's launched his ascent to the helm of batting charts in the age-old format. The second, a clanger that bashed the helmet of Cameron Green in Bloemfontein on September 7th, would revive his 50-over career, as he became the leading run-getter of the series against South Africa, accrued at a strike rate of 96.
Now, from September 22 when the first of the three-game ODI series in India begins, Labuschagne, along with a few of his Australian team-mates, will get the chance to seal a World Cup spot. Though Australia possess a largely settled squad, once the absentees of the South Africa series returns, the five-time champions, who have picked the personnel, will get the chance to identify their strongest eleven.
The most fascinating is the race among their stack of all-rounders.  There are five bowling all-rounders racing for a maximum of three slots. Mitchell Marsh is an automatic choice, given his form as well as utility as an opener; Glenn Maxwell too is certain because he is the only spinner among them. So between Marcus Stoinis, Green and Sean Abbott, only one could sneak in. Stoinis possesses incredible power and a deadly yorker; Green has the knack of seaming the ball both ways; Abbott could be the perfect tie-an-end up first-change seam bowler, who could challenge the off-colour Josh Hazlewood for a spot.
The eyes of the selectors would be trained on the spinners too. Australia have packed just two specialists—Adam Zampa and Tanveer Sangha. The latter, a leg-spinner, has played just a match but his skills would be put to test against India's in-form batsmen. Maybe, all Sangha needs is a wink of destiny like Labuschagne found at Lord's and Bloemfontein.
Labuschagne's fight for the world cup spot is an interesting pursuit. Before the break, his ODI stocks had hit rock bottom in a three-year span wherein 22 outings mustered only 532 runs at an average of 25. 80 and strike rate of 77.98. It was a laborious phase where he lost his boundary-hitting vigour as well as struggled to rotate the strike. Besides, he was considered too similar to Steve Smith in his approach and role in the ODI side.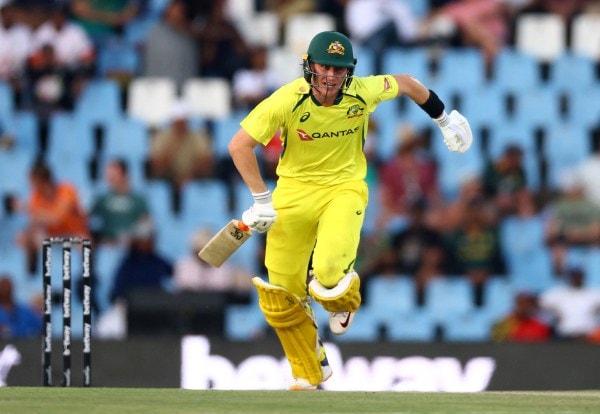 Cricket – Fourth One Day International – South Africa v Australia – SuperSport Park Cricket Stadium, Centurion, South Africa – September 15, 2023 Australia's Marnus Labuschagne in action REUTERS/Siphiwe Sibeko
But he was a batsman reborn in Bloemfontein, just 250 kilometres away from his hometown Klerksdorp. Reaching the crease at 73 for 5, he scripted the perfect anchor-finisher role to wrap up the chase of 225. He would end up as the leading run-getter of the series, and got those runs at a strike rate of 96. In the five games alone, he found the fence more often (34 fours and two sixes) than in the previous 22 innings (31 and two).
That concussion to Green has helped turnaround his ODI career, just like it did when Smith went down to Jofra. "How quickly Marnus turned and fled on to the field!" His batting coach Neil D'Costa had told this newspaper about the Test concussion day. "He told me later that he knew he had to get out quickly lest Smith changes his mind!"A 100-ball 59 on the final day helped Australia save the Test as well as his career, wandering aimlessly after eight mostly nondescript outings until then. The first ball he faced was an equally fiendish bouncer that hit his badge. But he survived and prospered.
The ODI turnaround, he credits, to a change of mind-set and preparation rather than any elaborate tinkering of his technique. "It comes (down) to your training, I always pride myself on training well, and making sure I'm always ready. I have been really disappointed with how I've played my one-day cricket, the last 10 to 12 games I felt like I haven't shown the intensity and the courage that I would have liked. But here I showed a lot of intensity and courage," he said after reeling out a 99-ball 124 in the second game.
Evident was a batsman not over-fussed with his technique or movements, rather a batsman who seemed to enjoy his game rather than being weighed down by self-imposed expectations, as he seemed during most of the Ashes. The most productive strokes were still the slaps on the back-foot through covers, the whiplash pulls and flicks, and lashing drives on the rise. But in between, he would improvise, like a reverse sweep to wink in his second hundred (off just 80 balls) in this format, or the paddle sweep and feathery tickles down the ground, and manipulate the gaps for singles and twos. To the spinners, he would unpack his sweeps and slog-sweeps, though he did not step out as often as he did during the Test series in India a few months ago.
Australia's leaders are taking plenty of encouragement from their tour of South Africa, including the re-emergence of Marnus Labuschagne's ODI form #SAvAUS pic.twitter.com/kU3sSU6j1v

— cricket.com.au (@cricketcomau) September 18, 2023
A middle-order batsman was not exactly a confounding riddle for Australia, especially when Steve Smith returns. But Australia could benefit from not only his stroke-making prowess against spin bowling but also his game awareness and experience. In the preliminary squad, Australia are crammed with all-rounders, but with a reputation of inconsistency and instability. All of Mitchell Marsh, Cameron Green, Marcus Stoinis and Glenn Maxwell could produce match-defining performances on their day, but such performances arrive infrequently. Even the injured Travis Head could be dodgy against quality spinners on the subcontinent. Labuschagne thus adds steel and substance to a line-up of predominantly attacking batsman. He could mellow down Australia's frantic, eventually self-destructive, approach in the last three ODIs of the South Africa series. In all three games, they were all out by the 35th over.
In the subcontinent, where the surfaces could be low and slow, two batsmen in anchor-mould could be beneficial. Besides, it is not as though both Smith and Labuschagne can't drive their innings in higher gears. If Smith is fully fit, they can try both in the three-match ODI series against India, starting September 22, to review how the equation works out.