News
/
Science & Technology
/
Weekly Tech Wrap: iPhone 15 Breaks Cover, Google Faces US Antitrust Case, More Top Tech News
---
From WhatsApp launching Channels to Oppo rumoured to offer free battery replacements, here are the biggest tech news stories from the week that was
---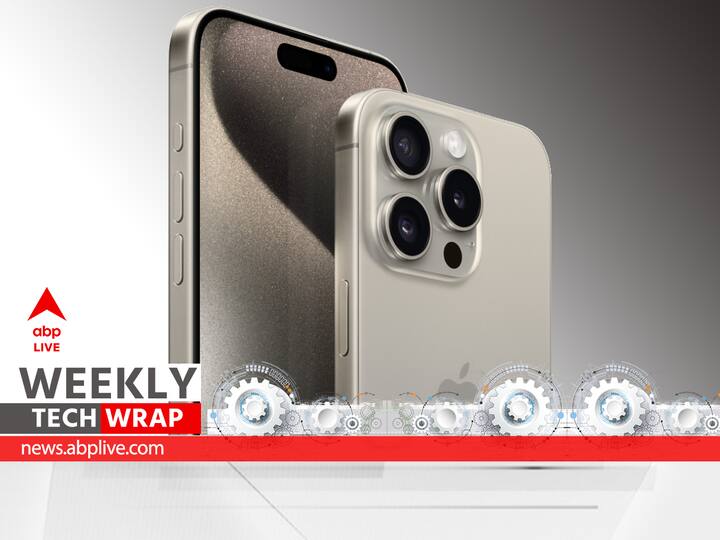 Apple launched its latest lineup of hardware on Tuesday. Apart from the iPhone 15 and the iPhone 15 Pro lineup, the Cupertino tech giant also introduced Apple Watch Series 9 and Apple Watch Ultra 2 at its "Wonderlust" event. While the world of tech was abuzz with all things Apple, the past week also saw the commencement of a major antitrust legal faceoff between Google and the US Justice Department. WhatsApp also launched its Instagram-like Channels this week. Read on for the top technology news.
Old Apple In New Basket
At Tuesday's "Wonderlust" event, Apple unveiled its latest range of hardware in a whirlwind showcase. While the event retained its customary allure, there were no groundbreaking revelations, as many of the expected features and adjustments had been widely speculated before the event.
The focal point of the presentation was the iPhone 15 series, encompassing the iPhone 15, iPhone 15 Plus, iPhone 15 Pro, and iPhone 15 Pro Max. Notably absent from this lineup was the anticipated introduction of the new iPhone SE, though there have been hints that it might make its debut next year. A notable announcement was Apple's decision to phase out the Lightning port across the entire iPhone 15 series, aligning with the European Union's requirement for USB-C charging.
As for the Apple Watch Series 9, it brings forth an upgraded chipset, the S9 chip, boasting an impressive 5.6 billion transistors and a GPU that outperforms its predecessor by 30 per cent. Additionally, the inclusion of a second-generation ultra-wideband chip enhances the accuracy of locating misplaced iPhones.
most memorable moments from Apple Events over the years.
How Much Do New iPhones Cost?
USB-C, titanium casings, 48-megapixel snappers aside, the biggest question on everyone's mind post-Apple Event is, how much do the new iPhones cost?
Well, here you go:
iPhone 15 (128 GB): Rs 79,900
iPhone 15 (256 GB): Rs 89,900
iPhone 15 (512 GB): Rs 1,09,900
iPhone 15 Plus (128 GB): Rs 89,900
iPhone 15 Plus (256 GB): Rs 99,900
iPhone 15 Plus (512 GB): Rs 1,19,900
iPhone 15 Pro (128 GB): Rs 1,34,900
iPhone 15 Pro (256 GB): Rs 1,44,900
iPhone 15 Pro (512 GB): Rs 1,64,900
iPhone 15 Pro (1 TB): Rs 1,84,900
iPhone 15 Pro Max (256 GB): Rs 1,59,900
iPhone 15 Pro Max (512 GB): Rs 1,79,900
iPhone 15 Pro Max (1 TB): Rs 1,99,900
ALSO READ: iPhone 15 Challengers: Samsung Galaxy S23, Xiaomi 13 Pro, More
WhatsApp Pulls An Instagram
WhatsApp, the instant messaging platform owned by Meta, has introduced a new feature called Channels in over 150 countries, including India. Channels, which bears similarities to Instagram's Broadcast channel, offers users the capability to engage with their contacts through one-way communication channels. This simplifies the process of sharing messages with large groups.
WhatsApp has highlighted the privacy aspect of Channels, assuring that the identities of followers remain confidential to each other. These Channels function as a tool for one-way broadcasting, enabling administrators to share various types of content such as text, images, videos, stickers, and polls, all while safeguarding the privacy of both administrators and their followers.
Click here to check out how to access the new feature
MUST READ: Received 'Emergency Alert: Severe' Message On Your Phone? Don't Panic, It's Just A Test
Google Vs US
In a significant ongoing legal battle, the US Justice Department, in collaboration with a group of state attorneys general, will make allegations against Alphabet's Google. They claim that the tech giant has unlawfully exploited its position in the search-engine industry to establish a monopoly.
The US government and its state counterparts argue that Google engaged in anti-competitive practices by directing substantial financial resources to companies like Apple and other business partners. According to the government's lawsuit, these financial agreements were structured to ensure that Google's search engine remained the default choice on the majority of smartphones and web browsers.
The lawsuit, initially filed in federal court in 2020, asserts that these agreements were deliberately exclusionary in nature, effectively preventing competitors from accessing search queries and clicks. As a result, Google was able to further solidify its dominance in the market.
Click here to read our full report
Free Oppo Battery Replacements?
Oppo is considering the implementation of a complimentary battery replacement initiative for its customers, with the initial rollout potentially starting with the Oppo A2 Pro 5G device. As reported by the well-known insider Digital Chat Station and noted by Gizmo China, the company is preparing to unveil a battery replacement program lasting four years in the near future. Additionally, another tipster, Whylab (translated from Chinese), has indicated that Oppo intends to include a provision in this after-sales program, offering a battery replacement if the battery's capacity falls below 80% within four years of the handset's purchase. This represents a notable extension from the typical one or two-year warranty periods commonly offered by most smartphone manufacturers.
Leakster Whylab has also suggested that Oppo is likely to announce this new initiative in conjunction with the launch of the Oppo A2 Pro 5G smartphone.
Click here to check out the full story
That's it from the world of tech headlines this week. Stay tuned to this space for more top stories next week.
Subscribe And Follow ABP Live On Telegram: t.me/officialabplive

(This story has not been edited by Thepearl staff and is auto-generated from an ABP Live RSS Feed.)