From running in vacant paths in sugarcane field, Parul Chaudhary determined to continue path-breaking journey at Asian Games
Kishanlal Chaudhary can't recall why the thought of asking his younger daughter to run a race in school crossed his mind. Nobody from the family of farmers was athletically inclined. He never planned to ask any of his four children – two boys and two girls – to take up sports. "It was a random thought which popped into my head," Kishanlal says. "I was planning to go watch the sports meet at her school. I told Parul to participate. There was no plan, it was just a suggestion from a father to his daughter. I had no clue she would represent India in athletics and reach the final of a World Championships."
This story is from 2011. Parul won her first race, 800 metres, and became a school champion. She ran barefoot, recalls Parul while talking to The Indian Express from her training base in Colorado Springs. "Papa asked me if I wanted to run and I agreed. I had never practised before that school race," Parul says.
The proud father Kishanlal is sitting in a small drawing room dotted with medals and trophies in Iklauta village, Meerut. The walls have run out of space to accomodate more medals. "We are building a bigger room to give a better display to Parul's medals," her older brother Rahul Chaudhary says.
Kishanlal and his wife Rajesh Devi are proud parents. All their children are well settled. Parul not only qualified for the final of the World Championships in the women's 3000 metre steeplechase but also broke the national record. She is Asian Games bound.
On the board at the gate has the name of the youngest of the children Rohit and his designation in UP police. Parul's sister Preeti is also a middle distance runner and has joined the CISF. Rahul takes care of the farmland.
Kishanlal and his wife Rajesh Devi are proud parents. All their children are well settled. Parul not only qualified for the final of the World Championships in the women's 3000 metre steeplechase but also broke the national record. (Express Photo by Gajendra Yadav)
The girls in the family, Parul and Preeti, were path breakers in the village. Rahul points to vacant paths between sugarcane fields. "They used to run along the fields and onto the main road and back to the village. This was just after that race in school. Preeti had also participated and both fell in love with running right away," Rahul says.
There were snide remarks and sexist comments from neighbours but Kishanlal says he backed his daughters. "We never bothered about what people said. We let them do what they enjoyed. And both were serious about it. Even when Parul and Preeti started winning medals, people didn't stop talking," Rajesh Devi says.
Parul is five feet seven inches tall and is a wiry athlete like all middle distance runners. Preeti is two inches shorter. But there was a time when Parul was chubby. "Godh mein nahi aati thi (It was difficult to hold her). She was on the healthier side," Rajesh Devi says. This was before she started running races.
The family soon had to deal with sibling rivals on the track. Preeti was older than Parul and both were highly competitive. But it was the younger of the two who had the edge. The girls from the Chaudhary family finished 1-2 on the podium but Parul was always first to the finish line.
"They would participate in the 800 metres, 1600 metres and the 3000 metres. When they returned home after a race there was a little tension in the air. Coming second best to Parul was upsetting for Preeti. There were no fights but we felt it was better that they run different races," Rahul says.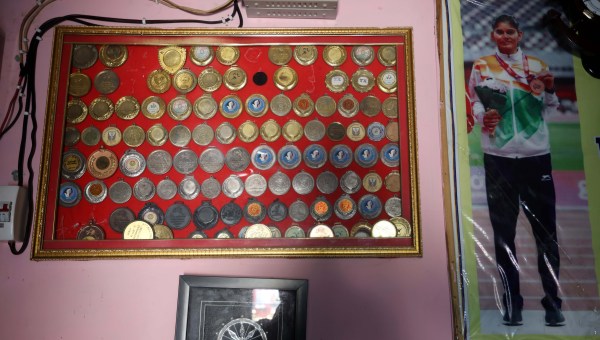 The walls have run out of space to accomodate more medals. (Express photo by Gajendra Yadav)
Parul was asked to stick to the 1500 metres and the 3000 and Preeti moved up to 5000 metres.
A government job was the incentive to continue running. "I had heard that if you do well in sports, you could get a good job. That was my main aim. Frankly, my plan was to get the job and then quit the sport. I never had any major ambitions," Parul says.
She landed a job with Western Railway in 2015. She gave her first salary to her parents. Her mother travelled with her to Mumbai to be part of the big day and also help Parul settle down in the big city.
Parul didn't pack away her training gear for the coat of a TTE. Job stability, advice from a former cricketer and love for running made her eager to win more medals.
Just days after she started working, she participated in an inter-railway meet where she won gold. Parul says Diana Edulji, the former India women's captain and railways veteran, is the one who told her to focus on running.
"Diana madam said you have potential, so practice. I finished fourth at the Open National because I had a calf injury, but next year (2016) in Hyderabad I won gold. The star then was Lalita Babar who was preparing for the Olympics so it helped. But that gold gave me confidence. I started dreaming big," Parul, who has worked as a ticket examiner at Grant Road station, says.
In the final in Budapest, Parul clocked 9 minutes and 15.31 seconds to break Babar's seven-year-old national record of 9:19.76.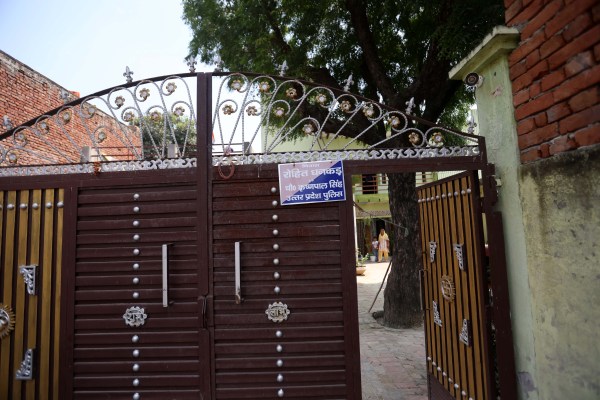 Residence of India's women's 3000m steeplechase contender, Parul Chaudhary in Meerut. (Express Photo by Gajendra Yadav)
At 28, Parul is in the form of her life. Since May last year, she has run her top-10 timings. Qualifying for the final in Budapest and running a sub 9:23.00 – the qualifying standard for the 2024 Paris Olympics – was a dream come true, Parul says.
In the Heats, Parul had clocked 9:24.29, much faster than the 9:29.51, her personal best. However, Parul says she never thought she would qualify for the final. She was the ninth-fastest among the 12 on the startlist for her Heat. She was up against Olympic Champion Peruth Chemutai, the former Under-20 World Champion Faith Cheotich and a former World Champion Emma Coburn.
"It was when I overtook Emma (Coburn) that I started to believe that I could qualify for the final. My aim was to qualify for the Paris Olympics. That didn't happen in the Heats, but I got another opportunity in the final. I knew the final would be a fast race," Parul says.
One of the first messages which she saw on her phone after she qualified for the final was from national coach Jaiveer. "9:15.00 is the message coach Jaiveer had sent me. At that point I thought 9:15 would be tough but I had practiced for a fast race. I decided to give it my best shot. Running in the Heats and qualifying had given me a lot of confidence."
Men's national record holder Avinash Sable was also in Budapest. The both of them are training partners and are coached by American coach Scott Simmons in Colorado Springs.
"Avinash told me that you will run 10 seconds faster in the final because it is bound to be a faster race. The foreign coach also didn't put any pressure on me but told me I was capable of going much faster."
Parul finished a credible 11th in the final, which was won by Winfred Yavi who clocked 8:54.29, the fourth-fastest ever. The Kenyan-born Yavi who runs for Bahrain will be at the Hangzhou Asian Games too. "Asian Games will be a tough race too. My hurdle crossing has to become faster. Some athletes don't keep their foot on the hurdle in water jump too. I have been noticing this. I think I noticed that the gold medal winner (Yavi) didn't keep her foot on the hurdle. Some of these runners jump directly and save time. I am very instinctive when it comes to hurdles. It depends on how my stride is. In practice I don't keep my foot on the hurdle, but in competition it is fast and there are other athletes around. So I keep my foot."
Back in Iklauta, Parul's family is looking forward to her visit home after the Asian Games. Kishanlal hopes Parul spends more time at home.
"I keep telling her half-jokingly that you stop running. You have a job, you have represented India and won medals. Why train so hard and run. But Parul would tell me I want to compete in the Olympics. Now she has qualified for the Olympics. I will ask her after the Olympics what her plans are. My guess is that she won't stop running anytime soon."